Tara Donovan,
Drawing (Pins)
2011
(gaterboard, paint, nickel-plated steel pins) 10' x 10' x 4"
Part of the larger "Push Pin" exhibit, this piece uses carefully placed pins to creat a sense of texture and light. From a distance, the individual pins become invisible and the greater undulating shapes and shadows. Up close, there is texture and pattern. An observer must be able to see the art from a distance and close.
Donovan often takes everyday items (straws, paper plates, etc.) to create abstract works of art rich in texture. This piece is largely two dimensional, which is a departure from Donovan's usually three dimensional sculpture.
Dan Graham,
Two 2-way Mirror Ellipses, One Open, One Closed (Pavillions)
, 2011-2012
(2-way mirror, glass, steel)
h
7.5' x
w
11.5" x
l
24.5'
Dan Graham use view and form to creat an opportunity for observers to experience space and light differently. The mirrors and glass allow viewers to see both themsleves and others within the composition. This, and Graham's other works, play with concepts of interior vs. exterior and privacy vs. publicity.
It is important the observers become participants in the experience. By moving in and around the piece, other participants' experiences of view, human scale, and sense of space are created.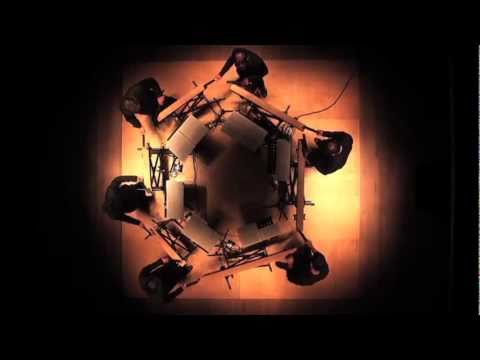 Michael Gordon,
"Timber"
2011
"simantra" - 2" x 4" cut to various lengths, supported by saw horses with contact microphones, 1 hour
http://youtu.be/U2cubmnH6MQ
Timber
is simple in its instumentation, consisting of 6 2" x 4" cut to different lengths which offer different tones. This simplisity invites the listener to hear the complexity in the rhythm and echoing tones. This fits in well with Gordon's other works, which also explore the texture and complexity of rhythm.
The piece provides a rich, meditative sound that reverberates through the performance space. With the 6 musicians and simantras arranged in a hexaton, taking up roughly 8' x 8', the listeners can surround and move around the performance, experiencing how the sound can change throughout the space.